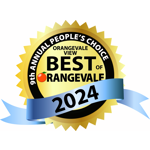 BEST OF ORANGEVALE 2021
IN-PERSON CELEBRATION
To find out who the winners are, join us at the Orangevale Community Center on Saturday, February 5th, 2022 at 6:30 pm for live music Billy Williams and Happy Hour. A delicious dinner will be served at 7:00 pm followed by a dessert auction and awards. The Brads (OG and Farmer) will host an exciting evening of recognition with special appearances from Supervisor Frost, Assembly Kiley, and Congressman Bera. This event is sure to sell out like in past years. Come join us for a full evening of music, dinner, raffle/auction, reflection, and celebration. Click Here for tickets
We are excited to host the 6th Annual Best of Orangevale. Showcasing and highlighting how local businesses, community groups, and individuals in Orangevale continues to play a role in solving our greatest challenges and supporting our communities amid the backdrop of the coronavirus pandemic, economic distress, and call for greater inclusion and equity.
The Best of Orangevale Awards is an annual ceremony to recognize the most innovative and impactful businesses, citizens, and community programs that raise the bar on social responsibility and spearhead the transformation to a strong, healthy, and sustainable community. This year is no different.
To support and contribute to highlighting our local businesses, groups and individuals visit www.bestoforangevale.com. In partnership with the Orangevale Chamber of Commerce this website remains active until the following year's competition and acts as a local online directory for consumers and their needs. Nomination and voting will begin on December 17th, 2021, and continue until January 31, 2021. This will determine the 2021 runners-up and winners.
Evening Includes; Live Music, Catered Dinner, Non-Alcoholic Beverage, Hosted Bar, Raffle, and Award Presentation. Doors Open at 6:30 pm. Dinner Served 7:00 pm. Awards begin at 7:30 pm.
Bring ticket(s) to the event or smartphones. All Sales are final. No outside food or drink. Bling or Jeans Attire.
Thank you to our sponsor,
Best of Orangevale Rules & Guidelines
Nominees must do business (or work for non-business-related categories) within Orangevale or have an active Orangevale Chamber Membership. We verify all participants via Sacramento County Business License database, social media, and registered website. This rule is excluded for certain non-business-related categories.

The Best of Orangevale facilitators reserve the right to remove any business that has entered the competition incorrectly or has used marketing materials, badges, language, or behavior that is not in line with the competition. Participants who violate the rules will receive a written warning about the incident.

If a business is caught "Stuffing Ballots", which is breaking one of our security measures and submitting multiple ballots with the voting focus on the same business and or businesses. The software automatically flags these incidences and they are scrubbed from the final list. We have a responsibility to the businesses who participate to provide a fair and accurate voting process that ensures that no one abuses the integrity of the online competition.

Only one vote per category per person with a minimum of 3 category votes. Winners are chosen by people who fill out the online voting ballot. We will track IP addresses, if more than one person wants to vote within your household, they may not use the same computer, tablet, and phone, or shared network.

Winners of Individual categories from the previous year cannot compete in back-to-back years of that winning category. However, they are permitted to be nominated in other categories if eligible.

All voting entries must have complete information or the votes will not be counted. By participating in the Best of Orangevale you grant us permission to use your business name, likeness, and or image for use in our marketing and promotional materials related to the competition and/or party. All Best of Orangevale competition results are held private by the Orangevale View.

Winners will be announced and awarded at the Best of Orangevale Award Banquet. Winners will receive a certificate, other promotional materials, and bragging rights. Winners will be showcased in the Orangevale View Newspaper issue following the Award Banquet. Winners will be posted on the Orangevale View website 7 working days from the Award Banquet and the winner's directory will remain until the next awarding year.

The goal of the Best of Orangevale is to create awareness for all the great small businesses we have in Orangevale. We want the competition to be fun for all who participate.